Standard & Luxury Minibuses Available
Our minibus fleet
For all your group travel needs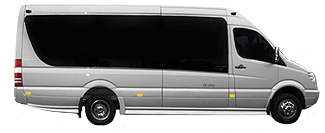 up to 19 passengers
up to 19 medium suitcases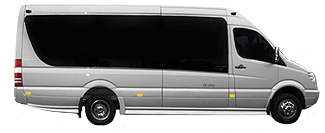 up to 22 passengers
up to 22 medium suitcases
 up to 16 passengers
up to 16 medium suitcases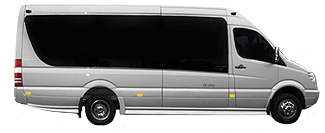 up to 19 passengers
up to 19 medium suitcases
We operate an extensive range of Minibuses from 8 to 33 seats. Our modern fleet of Minibuses comprise of over 30 vehicles which range from both Standard to Luxury Executive Minibuses which are Fully Air Conditioned with Satellite Navigation, Seat Belts, Custom Soft Leather Reclining Seats and DVD players, T.V screens as standard.
Our Luxury Executive Minibuses are custom built by Mercedes-Benz, each Luxury Minibus houses state of the art comforts to ensure that you travel in style whether it be for business or pleasure.
We provide Minibuses for a whole host of events including all Sporting Events, Theme Parks, Days and Nights Out, Hen and Stag Nights, Weddings, Airport Transfers, Shuttle Services, Site Inspections and all Corporate Events including sightseeing tours of London including tours of Great Britain.
Our Minibuses are fully insured and our drivers expertly trained and qualified to ensure that your special day runs smoothly and leaves you with a memorable experience.